Asked to draw 'Tennis Stars'...
In November 2001 I started work on the character designs for 'Tennis Stars', which was to be the Game Boy Advance's first tennis game. I initially came up with a design sheet illustrating two different manga styles which could be used for the game. The game developers, "I-Wish Games Ltd " (since bought out by "Ignition Entertainment"), were keen to go for a more 'chibi' / child friendly style, similar to the 'Smash Court Tennis Game' on the SNES. After the style was agreed, I create detailed writen descriptions for each character before picking up a pencil. This was to give I-Wish some idea of the sort of thing to expect and gave me a theme to base each design on.
What was required?..
6 Characters were needed; Joe, Danny B, Becky, Irvina and Pete Chan. All from different countries and with different attributes and storylines. Each needed a regular pose, a winning pose and a losing pose, with the regular pose being coloured. The coloured images were to be used as in-game graphics and as promo material. After the characters drawings had been completed a box cover design was needed.
Importance of communication...
A project like this involves probably as much time writing - i.e. emails and communication with the client as it does drawing! It's important we both know exactly what's happening each step of the design process to make sure it's all running smoothly and if there are problems, they can be nailed out sooner rather than later. For example, I always sent initial pencil sketches of a pose before neatening it up or inking it. There was, for example, one instance when Becky's "performing the splits" winning pose drawing was too wide to fit on screen. So it needed to be changed into a standing pose. Things like this have taught me to find out if specific image dimensions are needed before starting.
The results...
For the cover, like with most of my artwork, I'll complete it in 3 or 4 stages:

First I start of with an initial sketch followed by a much neater or light boxed pencil sketch. From here I will either clean up my pencil work later in Photoshop to create crisp high-res art, or in this case, I've added inks to the line work to sharpen the line work. Click to see larger versions.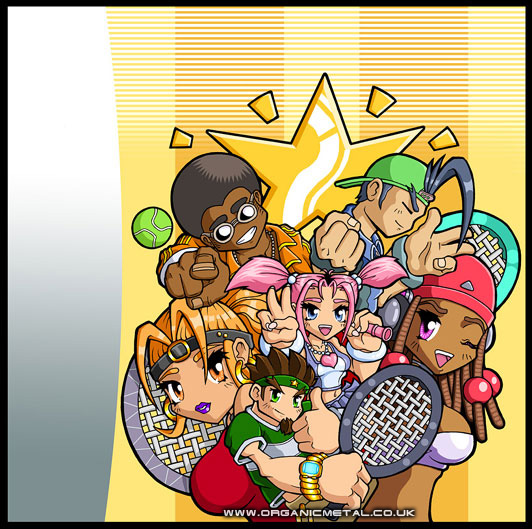 Tennis Stars cover: Once the image has been scanned, it's on to the colouring stage. This is where the illustration really comes to life! I had to consider how the characters would be arranged as space was needed in the corners for game developer logos, a large portion on the left was to house the Game Boy logo and the title would be positioned at the top. As with the individual character art, the the final cover image was sent to the client in a high resolution digital format suitable for print.
In the game: Here's a few early screen shots taken from the game. I wasn't involved with the pixel art, sprites and backgrounds, but it was interesting to see how the characters were later translated into simple 2D sprites.
Then what?...
Due to various behind the scenes issues while I-Wish was being bought out by Ignition, the game's development was stopped. I had already completed the artwork by this stage so my job was done! It looked as though the game wasn't to get released. However, a friend of mine spotted it in the video game shop where he worked in early 2003- It was now a budget title called "World Tennis Stars". The cover design had been changed and the in-game graphics were revamped, but the character designs had more or less remained the same. It was also later released on PlayStation.