Manga & Anime style tutorial art book with illustrations by Ben Krefta. 144 pages. Full colour. English text. Limited signed UK edition (Only available from Organic metal for £25!)
---
Please
email
if you are interested in purchasing this item.
Include your address and which payment method you wish to use.
---
Manga is a genre that has been a phenomenon in Japan and it's popularity is growing rapidly in the west. The Art of Drawing Manga is the idea volume for novice illustrators who want to draw in the Manga style. The book is divided into a number of accessible sections, each featuring dozens of essential tips and pointers:

Materials : Understanding and choosing your media for brilliant results

Heads : Expert advice on going from basic oval to finished face

Figures : Learn how to bring your creations to life in easy steps

Every page is loaded with amazing full color illustrations. The Art of Drawing Manga is an essential reference book for the Manga enthusiast.
This is a signed & dated book limited to just 35 in the world, which makes it very rare! Each includes its own certificate of authenticity.
* Signed by author Ben Krefta
* Includes cert. of authenticity
* Published in Oct 2003
* 144 Pages! All colour
* New condition. Never been opened
* Approximately 8 x 12 inches in dimension

Content Preview for 'Female Head'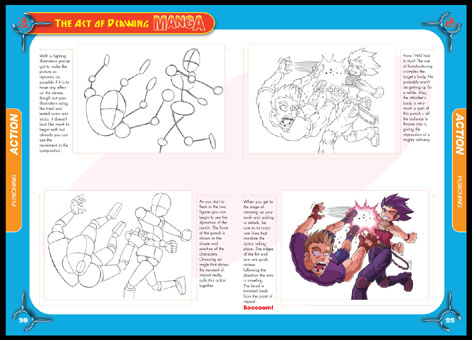 Content Preview for 'Punching'