February 2002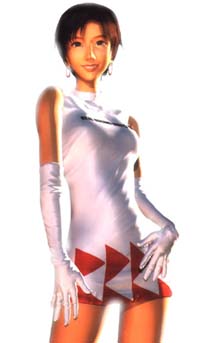 Didn't expect to see a racing game character? Well, it's a good excuse to draw the sexy race queen from the long running Ridge Racer series, Reiko Nagase!
Stats:
D.o.B / Age: 14th February 1974
Height: 165cm
B / W / H: 83cm / 58cm / 86cm
Weight: Not Known
Bloodtype: A
Likes: Pac Man, Smash Court Tennis, Shopping, taking her pet dog Ricky for a walk, Driving cars, Making souffles and Water sports.
Dislikes: Not Known
Family: Not Known
Background Info: Everyone's favorite Ridge Racer girl.

This month's entries were all very diverse and a big thanks goes out to everyone that took part and hope to see your work in future MVGC months galleries.
Artist of the month: G.i.A.m! - for a great pic showing you did your homework on this character!