December 2001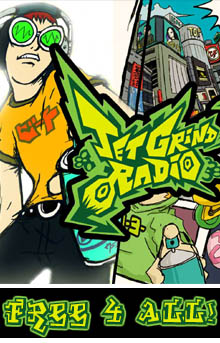 This month's characters are the entire crew from near faultless game Jet Set (Grind) Radio! You can chose the illustrate any characer(s) from the game or even characters from JSRFuture if you can get hold of some decent reference!
History: JSR revolves around Shibuya-cho's street gang called the "GGs". Their policy is one of "no policy". Thier hideout is a garage located in the backsteets of Shibuya. Because this is the coolest place in Tokyo-to they are often challenged by other gangs, who try to take over Tokyo with their graphiiti pieces and tags. Tagging ain't easy though when you have the crazy captain Onishima and the police trying to take you down no matter what! The full CG team consists of: Beat, Gum, Tab, Combo, Mew, Cube, Slate, Piranha, Garam, Yo-Yo and Pots the dog! You could also choose to draw The Noise Tanks, Poinson Jam, Love Shokers, Professor K or anyone else in the game!
Another round of great submissions. And always good to see some new faces among the listings :)
Artist of the month: Miguel!